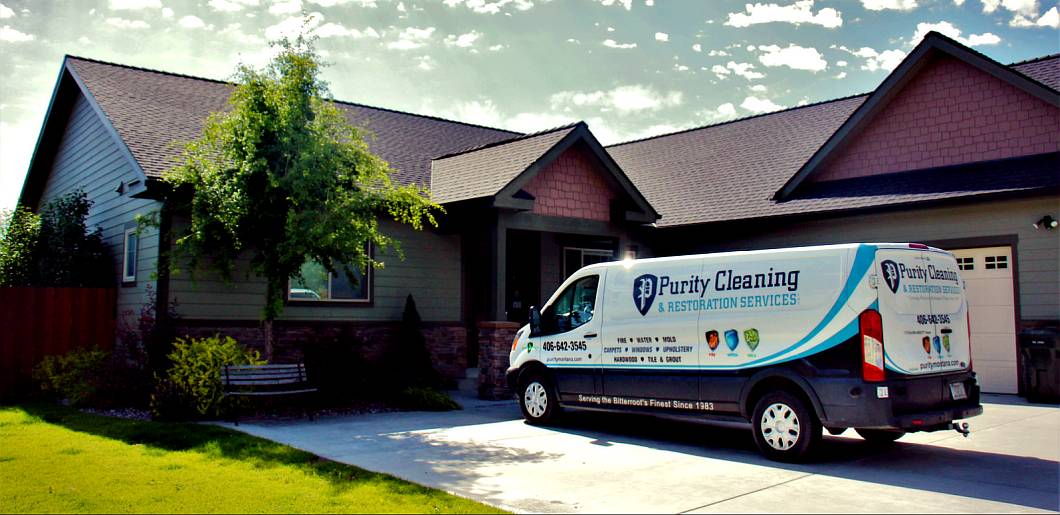 The beauty and life of your carpet depends on the care it receives.  Our carpet cleaning technicians are certified professionals and we have state-of-the-art equipment to ensure your carpets are cleaned thoroughly and properly.  Plus, our team is extremely careful and conscientious; we will treat your home, furniture, and possessions as we would our own: with gentleness and diligence.  We offer the best and most comprehensive carpet cleaning value in the Bitterroot Valley.
Our carpet cleaning services provide peace of mind by including the following:
Other Cleaning Services
Purity Montana Cleaning & Restoration Services also offers Carpet Cleaning, Area Rug Cleaning, Window Cleaning, Gutter Cleaning, Log Home Interior Cleaning, Hardwood Floor Cleaning, and Tile & Grout Cleaning
We also offer restoration services:
Water restoration and Fire and Smoke Damage Cleaning
Call us for more details or to schedule an appointment at (406) 642-3545
12 step carpet and upholstery cleaning process
Step 1: Pre-inspection
Our technician does a walk-through inspection with you to identify conditions, carpet construction, potential permanent stains, and any areas of special concern you may have.
Step 2: Commercial pre-vacuum
Your carpet is thoroughly vacuumed with a commercial vacuum cleaner to remove dry spoil. This is one of the most important steps in the cleaning process.
Step 3: Furniture moving
Sofas, chairs, and tables are carefully moved if you wish. Larger pieces, such as beds and dressers, are typically left in place unless prior arrangements have been made. Furniture is protected with disposable blocks and tabs.
Step 4: Pre-spot
Spots are pre-treated as needed.
Step 5: Pre-spray and pre-groom
Your carpet is pre-conditioned with the appropriate product to suspend soil for more effective soil and spot removal. Our pre-spray is a CRI (Carpet and Rug Institute) tested and approved environmentally-friendly product. Your carpet is pre-groomed with a carpet groomer where necessary (depending on soil level), to further loosen traffic area soil.
Step 6: Extract and rinse
Once the soil has been loosened, our state-of-the-art truck-mounted hot water extraction cleaning process thoroughly flushes the carpet pile. Pressure and heat are regulated to prevent the carpet from being over-wet. This step sanitizes and deodorizes your carpet.
Step 7: pH-balancing rinse
Every carpet that we clean is pH-balanced so there is no sticky residue left behind. This treatment is applied during the rinse phase.
Step 8: Post spot treatment
If any spots are not removed during the cleaning process, specialty spotting techniques are utilized- we have written procedure for almost every situation.
Note: Potentially permanent stains, as identified by the technician, may not be removed.
Step 9: Carpet protection (optional)
Applying carpet protection will serve to guard your carpet against both dry and liquid soil. To keep your carpet looking as new as possible, the CRI recommends re-applying protection every 12-18 months.
Step 10: Speed dry
High-velocity fans are placed on the carpet to speed-dry the carpet.
Step 11: Post grooming
The carpet pile is groomed in one direction using a carpet rake to aid with appearance and the drying process.
Step 12: Post cleaning inspection
Our technician walks through your home with you to go over the cleaning results and to ensure that you are completely satisfied with the job.
We guarantee it: No one else dares to offer you a carpet cleaning warranty this valuable!
Free spot and spill removal calls for common household "food and drink" spills for 12 months from the date of service.
Free lifetime supply of professional grade spotter.
Free consultation with our office for cleaning and maintenance tips and techniques.
Covers all carpeted areas that are cleaned and carpet protection applied.
Warranty is transferable to new owners.
How it works:
We provide our valuable 12-month spot and spill warranty for every carpet cleaning we perform that meet these criteria:
The property is residential (not a rental or commercial property)
The total cleaning price is over $200
We re-apply carpet protector on all areas
That's it! If your cleaning meets these requirements, you automatically qualify for our warranty on all areas that we cleaned and protected!
This free spot and spill warranty expires one year from the date of cleaning. To maintain your spot and spill coverage simply schedule us in to clean and re-apply carpet protection to your carpets. This will renew your spot and spill warranty for another 12 months – FREE OF CHARGE!
Call us for more details or to schedule an appointment at (406) 642-3545